Prisma Series 50W up and down lighting prisma aesthetic design rectangular led luminaire
Product Detail
Product Tags
Louva Evo Rectangle luminaire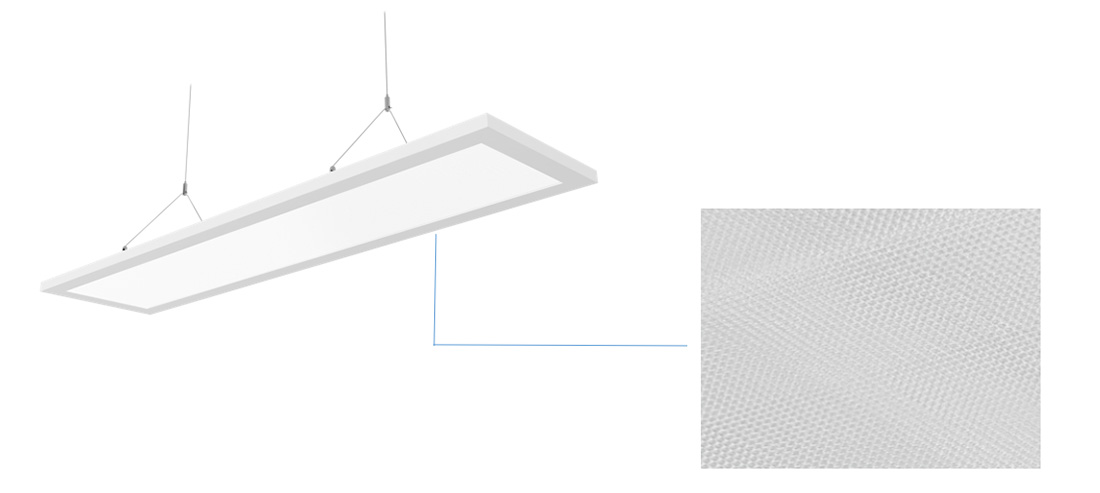 Product name

Prisma Rectangular Luminaire

Size

Color

Matt Black(RAL9005);

Matt White(RAL9016);

Material

Frame:Aluminium;     Lens:PMMA;     Diffusor:Microprismatic PMMA

Wattage

40W±10% 

50W±10% 

Lumen

4800lm (1600lm↑ +3200lm↓)

6000lm (2000lm↑ +4000lm↓)

Voltage

200-240V 50/60Hz

Efficacy

120lm/W

CRI

>80Ra,   >90Ra

CCT

3000K,4000K,3000-6500K tunable

SDCM

≦3 

UGR

<19(X=4H,Y=8H)

IP Protection

IP20 

Operating

-35~45℃

IK Protection

IK02

Warranty

5 Years

Lifespan

L50000h(L90,Tc=55℃)

Package

130x33x45cm(4pcs/carton)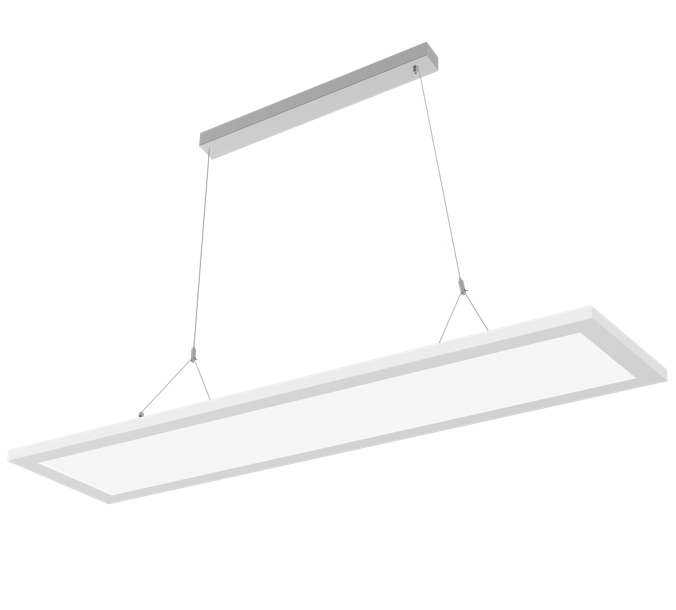 Aesthetic design Ultra slim
Owing to its ultra slim profile and streamline appearance,Prisma could highly meets the modern architectural lighting design concept.
1. When hanging way, prisma has the option of upper and lower luminous, upper luminous can reach 40%, lower luminous can reach 60%, upper and lower luminous together, creating a better sense of atmosphere and art.
2. The use of micro-prismatic diffusion cover makes the anti-glare better controlled, UGR <19, reducing visual fatigue. Unlike traditional opal panel lights, it is not easy to darken around.
3. Ultra-thin model with strong aluminium frame to protect the recessed panel from bending. The age-resistant PMMA (acrylic) lens emits a soft, even light without glare or flicker. Thanks to the integrated high-efficiency LEDs, the maintenance-free light lasts up to 50,000 hours. If it is operated for 10 hours a day, the service life can exceed 10 years.
4. Advantages in luminous efficiency, ordinary opal panel lights are around 100lm/w, while ours can reach 120lm/w.
5. Energy saving and environmental protection, no ultraviolet, infrared and mercury pollution; in line with current environmental standards.
6. Can be frequently switched on and off, no flicker and glare phenomenon; good colour rendering performance; strong anti-shock performance.
7. Non-isolated constant current drive, safe, stable and reliable.
8. Adopt imported light source and advanced heat dissipation technology, so that the average failure-free time of the product can reach two years.
Strictly control every step of manufacturing lighting fixtures, and every step of material delivery, production, aging, packaging, etc., is strictly implemented in accordance with the standards, and high-quality products are submitted to customers.
Suitable for office buildings, shopping malls, supermarkets, schools, hospitals, hotels, car parks, factory workshops, municipal projects, homes and other various lighting areas or decorative areas.
Services that can be supported:
Pre-sales service: luminaire specification, IES report, high resolution photos, physical drawings, product certificates (CE, ROHS), online video inspection samples, etc. After-sales service: If the lamp breaks down during the warranty period under normal use, we can provide repair service or restocking service, but all transportation costs incurred are borne by the buyer.
READ ALL INSTRUCTIONS BEFORE INSTALL ATION
1. Consult a qualified electrician to ensure correct branch circuit conductor.
2. The product should be installed and operated by a qualified electrician or technician in accordance with relevant local codes.
3. Risk of electric shock. Ensure that main power source is off when wiring or soldering the sections of the product.
4. Before installing this fixture or doing any maintenance, make sure to turn off the power supply at the circuit breaker or fuse box.
5. Check to make sure that all fixture connections have been properly made and the fixture is grounded to avoid potential electrical shocks.
6. Do not handle energized fixture when hands are wet, when standing on wet or damp surfaces, or in water.
7. Designed for use in 220V~240V, 50/60 Hz protected circuit, supply wire.
Please read this entire manual to fully understand and safely use this product.
Specifications are subject to change without notice.
Please visit our website the most recent user guide versions.
IMPORTANT SAFETY INFORMATION

DAMP LOCATIONS ONLY .Access above ceiling required. Do not install insulation within 70 mm (2. 76 in) of any part of the luminaire. Suitable for suspended ceilings.
Maximum ambient temperature is 40℃.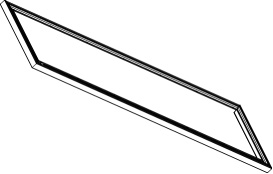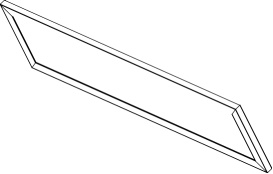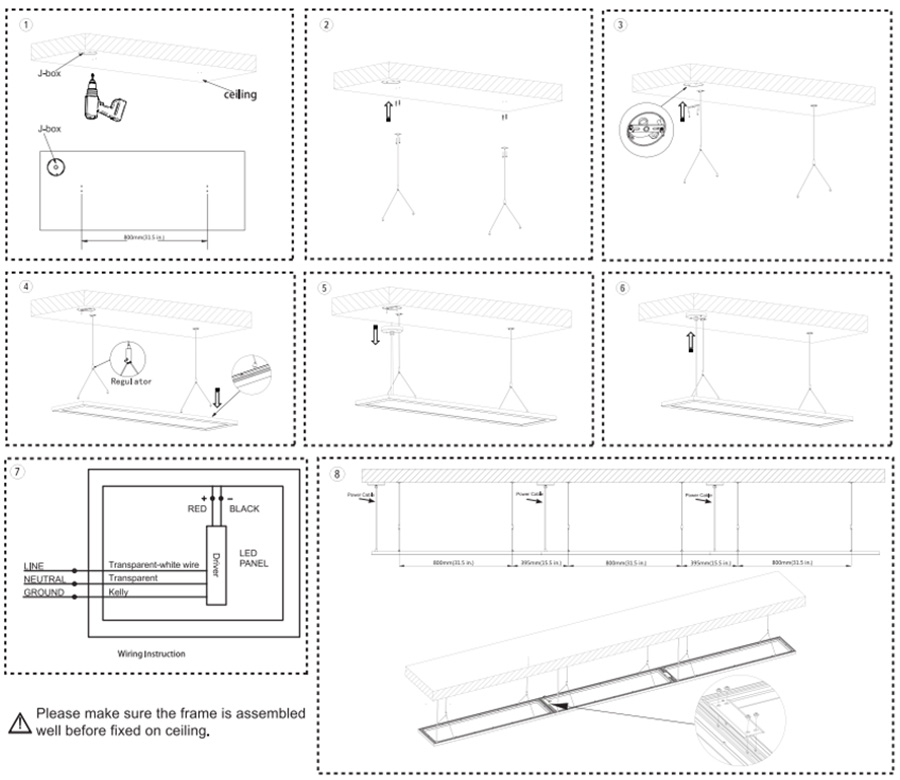 INSTALL ATION INSTRUCTIONS
Step1: Drilling 4nos中5 holes on ceiling, deep 30mm. review Picture 1 for the dimension.
Step2: Fix Suspension cable on the ceiling holes.
Step3: Align the holes on the bracket and screw on the J-Box. And fix the bracket on the J-Box.
Step4: Install suspension cables to top of panel on each side and tighten, adjust panel height and level.
Step5: Connect the input live wire to the transparent-white L wire of the panel light, connect the input neutral wire to the transparent wire of the panel light, connect the input earth wire to the yellow-green earth wire of the panel light.
Step6: Screw mounting box to bracket.
Step7: For multiple panel installation, see picture 7, then copy step 1 to step 6
---
---